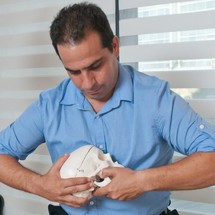 Tzvika Greenbaum
Tzvika Greenbaum is a Physiotherapist since 2004, with combined clinical Master degree in Musculoskeletal & Sports fields from the University of South Australia (2006). During and following his studies in Adelaide (Australia) he has specialized in Manual Therapy for patients with neck pain and headache. He studied from leading clinicians such as dr. Dean Watson (headache clinician and researcher).
Tzvika is a private clinician in the Herzlia Medical Center Experts clinic (Tel Aviv) where he mainly treats patients with neck & back pain, headaches and temporomandibular disorders. He has been teaching since 2011 Physiotherapists and other health professionals at the post-graduate level about rehabilitation of people with neck pain, headache and temporomandibular disorders. He's also a certified instructor of the international David G Simons Academy since 2014.
Tzvika Greenbaum is also in an advanced stage of his PhD project that is being done in cooperation between the Physiotherapy department and the Dental School of Tel Aviv University. In their study they assess the involvement of the upper neck in patients with different temporomandibular disorders.
Opleidingen Tzvika Greenbaum