Inhoud
Return to play is often touted as one of the hardest decisions in sports medicine. However, return to play is not just one decision and an athlete's journey post-injury doesn't end with a return to play. Most athletes in rehabilitation aim to achieve or exceed their preinjury level of performance. Return to performance may be the hardest phase of the return to sport continuum, and a phase which often gets less attention.
This PowerTalk provides a deep dive into return to performance, examining aspects which could quicken an athlete's return to their preinjury level of performance as well as key variables needed to track an athlete's progress. Participants will complete this webinar with both tools they can immediately implement in their practice and ideas to reexamine how they approach return to performance.
Leerdoelen
After this course participants will:
Understand how to assess the demands of sport and build appropriate return to sport/performance criteria
Be able to discuss why return to performance is an incredibly important but also difficult phase of rehabilitation
Feel confident in establishing key performance indicators and monitoring variables for their athletes in the return to performance phase
Be able to list clinically feasible variables which will help them track/assess the progress of their athlete
Be able to generate ideas on shortening the return to performance phase, particularly through early integration of sport specific rehabilitation and motor learning principles
Docent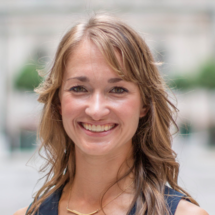 Amelia (Amy) Arundale, PT, PhD, is a physical therapist and researcher. Amy gained experience working at multiple soccer clubs in the US and Norway. She applied this experience working at Balance Physical Therapy providing physical therapy for the North Carolina F.C. Youth and the U23 Carolina Railhawks. In 2013, Amy moved to Newark, Delaware to pursue a PhD. Amy's dissertation examined primary and secondary ACL injury prevention as well as career length and return to performance in soccer players. After a short post-doc in Sweden, Amy spent three years at the Brooklyn Nets as a physical therapist and biomechanist. Today, she works as a physical therapist at Red Bull's Athlete Performance Center in Thalgau, Austria. Working with soccer players as well as athletes across Red Bull's vast athletic disciplines, she also presents and teaches frequently on topics related to return to sport and performance, ACL rehabilitation, on-field/court rehabilitation particularly related to motor learning, and tailoring rehabilitation to the demands of an athlete. Outside of work, Amy plays Australian Rules Football for the Munich Kangaroos, the New York Magpies and the USAFL Freedom (the US National Team).
Doelgroep
Kinesitherapeuten, sportkinesitherapeuten, sportartsen, podologen,...
Inbegrepen
Syllabus, uitgesteld kijken mogelijk tot 48u na het verzenden van de opname