Planning
Locatie
Aalst - Crossfit Aalst
Inhoud
The course will discuss the structure, function and pathology of the most challenging lower limb muscle and tendon injuries the pathomechanics the lead to injury in these structures acutely and chronically and how to individualise rehabilitation and load management strategies to return to full pain free athletic performance.
The course will cover:
Muscle and Tendon Structure, Function and Injury
Pathomechanics of most prevalent lower limb muscle and tendon injuries
Rehabilitation strategies
Tissue Specific Responses and Adaptations to Training
Transitioning rehabilitation from motor control to strength to sports specific activities
Load management and RTP decision making
Leerdoelen
Understand the anatomy and function of muscle and tendon
Understand the pathomechanics that lead to recurrent and chronic muscle and tendon injury
Provide structure to physical assessment to identify all the contributors to injury re-occurance
Optimise rehabilitation strategies through individualised exercise selection, coaching and periodisation to maximise required adaptation
Utilise key metrics regarding load tolerance and load management across sports during reconditioning through to return to pain free performance
Docent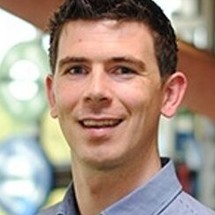 Enda King (PhD) is Head of Performance Rehabilitation with Sports Surgery Clinic, Dublin, Ireland. His role focuses on combining the use of 3D biomechanics and individualised high-level residential rehabilitation to optimize recovery from injury and enhance athletic performance. He has worked with athletes across a wide variety of disciplines including rugby, football, AFL, NFL, UFC, boxing, horse racing and GAA. His greatest areas of expertise lie within knee/ACL rehabilitation as well as athletic hip and groin pain and is widely published in peer reviewed journals in both areas. Enda King has recently completed his PhD on the use if 3D biomechanics in ACL rehabilitation through the University of Roehampton, London and will share much of his new research and clinical developments on this course.
Doelgroep
Kinesitherapeuten, sportkinesitherapeuten, manueel therapeuten, osteopaten, podologen en artsen.
Inbegrepen
Syllabus, lunch en koffiepauzes.