Inhoud
This one day advanced course is suitable for practitioners (physiotherapists, osteopaths, chiropractors, doctors and other health professionals) with some previous knowledge and experience of vestibular disorders.
The course is evidence based and fully referenced and is an up-to-date and in-depth look at treatment concepts and rehabilitation strategies for complex vertigo, dizziness and balance disorders.
Leerdoelen
On completion, the participants will have:
Understanding of the pro-active, multi-factorial nature of the balance system
Reviewed the peripheral and central nervous system pathways involved in vestibular disorders
Reviewed up to date ideas behind the more challenging forms of multi-sensory dizziness (vestibular migraine, PPPD, visual vertigo, cervical dizziness, post- concussion syndrome)
Learnt to diagnose and treat positional vertigo (BPPV), canaliathis and cupuloliathis variants, in the posterior, lateral and anterior semi-circular canals
Planned appropriate rehab programmes based upon individual assessment and clinical reasoning for central vestibular dysfunctions.
Learnt to integrate vestibular treatment, cervical manual therapy & functional exercise to optimally treat cervical dizziness, post-concussion syndrome, vestibular migraine, PPPD.
Docent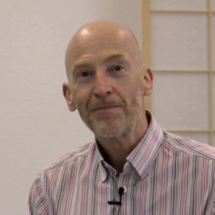 Alan Sealy, Bsc (hons), Grad dip Manipulative Physiotherapy, graduated from Sheffield Hallam University in 1996, where he also took his post
graduate manipulative therapy qualification in 1999. With a background in manual therapy, Alan Sealy now works as a clinical Specialist in Vestibular Rehabilitation. Initially within the NHS, and as a partner in private practice in Sheffield, Alan developed an early interest in dizziness and balance disorders.
Whilst on a lecture tour in Norway he was invited to establish 'Balanseklinikken', in Oslo. As the Director of Rehabilitation in Scandinavia's busiest balance clinic, and more recently as Director of Aberdeen Balance Clinic, Alan Sealy has treated and helped over 7000 dizzy patients. This considerable experience is utilized in research and educational courses throughout Scandinavia and the UK.
Alan has presented at a number of national and international conferences in the field of vestibular rehabilitation and has had papers published in peer-reviewed journals. Now based in Aberdeen, his time is split between his private practice, lecturing and research.
Doelgroep
Kinesitherapeuten, manueel therapeuten, osteopaten, chiropractors, artsen, die voldoende kennis en ervaring hebben met vestibulaire dysfuncties en/of eerder de basisopleiding Dizziness met Alan Sealy hebben gevolgd.
Inbegrepen
Syllabus, lunch en koffiepauzes.