8 februari 2019

In deze gastblog gaat dr. Alison Grimaldi dieper in op behandelstratiegieën bij patiënt met Gluteus medius tendinopathieën. Alison Grimaldi is een Australische sportkinesitherapeut en hoofd van Physiotec Physiotherapy in Brisbane. Ze behaalde een master in sportkinesitherapie en een PhD aan de universiteit van Queensland. Daarnaast wordt ze nationaal en internationaal gevraagd als docente en schreef ze mee aan 'Clinical Sports Medicine' en 'Grieves Modern Musculoskeletal Physiotherapy'. Je kan ze ook horen in talloze podcasts van 'The British Journal of Sports Medicine' en PhysioEdge.
'In my clinical practice I noticed that we were treating many with lateral hip pain, most commonly post-menopausal women. These patients reported pain levels and impacts on their lives as marked as those with hip osteoarthritis. Their sleep and physical activity levels were substantially affected and together with the psychological distress caused by more severe presentations, the impact on general health and quality of life was marked. Long symptom duration, with delayed or mis-diagnosis was frequently reported, sometimes resulting in unnecessary interventions.
Those identified as having a local soft tissue pathology had usually been diagnosed with trochanteric bursitis and given a corticosteroid injection (CSI) as the first line medical treatment and bursectomy for those with pain that did not settle. Previous failed physiotherapy had commonly included passive therapies such as therapeutic ultrasound to the 'inflamed bursa' and stretches for the iliotibial band or buttock.
Turning to the contemporary literature, imaging and surgical studies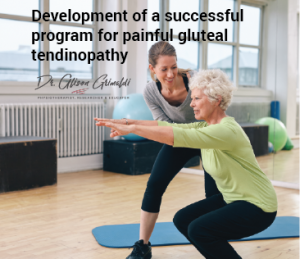 noted that the primary problem was tendinopathy of the gluteus medius and or minimus tendons, with bursal enlargement a less consistent feature. Imaging research suggested that gluteal muscle atrophy was associated with gluteal tendinopathy but little else had been established regarding the associated physical impairments and therefore the most appropriate targets for physical therapy.
My clinical observations were that patients presenting to clinic, appeared to have weak abductor muscles and poor motion control in the frontal plane during gait and other activities involving single leg stance. I was very fortunate to be able to collaborate with research teams from the University of Queensland (Bill Vicenzino and Paul Hodges) and the University of Melbourne (Kim Bennell), resulting in the development of seminal work on impairments related to this condition through Kim Allison's PhD studies. Her laboratory studies demonstrated that, compared to people without pain, those with unilateral gluteal tendinopathy were weaker in abduction on both sides, but moreso on the painful hip (Allison et al 2016a). Additional kinematic, kinetic and electromyography studies (studies of movement, forces and muscle activity) showed that those with painful gluteal tendinopathy were more likely to move in ways that result in higher loads on the gluteal tendons, primarily driven by alterations in frontal plane kinematics (pelvic drop, side shift and trunk lean to side) and a change in the way the hip abductor muscles activate during movement (Allison et al 2016 b,c; 2018).
In addition to these laboratory studies of impairments, there was an anatomical study that showed the soft tissues of the greater trochanter are compressed by the iliotibial band in a position of hip adduction (Birnbaum et al 2004). This indicated that postures, activities or exercises that encouraged this position are likely counterproductive in resolving the condition. While some believed that tightness of the ITB was a primary problem and stretches were prescribed, there was no research to be found in support. To the contrary, I found that improvements occurred when patients avoided or minimised such stretches and prolonged postures or activities in hip adduction. This became a key component of my education strategy for load management of painful gluteal tendinopathy.
We recently reported the results of a large, multicentre randomised clinical trial that showed an education on load management in combination with an exercise program was superior to a corticosteroid injection or adopting a wait and see policy. The beneficial effects of the education and exercise program can be seen in the paper's infographic below, which shows the benefit was present over the 12 months follow up period of the study. It has recently been published in the high ranking British Medical Journal. Again, this was a collaboration with the academics at the Universities of Queensland and Melbourne.'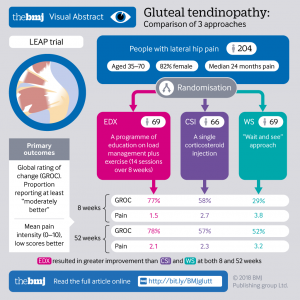 These beneficial effects of education and exercise delivered by a physiotherapist hold great promise for the many who endure the pain of gluteal tendinopathy. The important next step is to spread the news of these positive findings so that sufferers can benefit.
Do you want to know about lateral hip & buttock pain? Are you interested in what Alison Grimaldi has to teach? Alison Grimaldi is coming to Gent and Leuven in May 2019! Check our website:
References   – Visit the publications page for free resources and links
Allison K, Salomoni SE, Bennell KL, Wrigley TV, Hug F, Vicenzino B, Grimaldi A, Hodges PW. Hip abductor muscle activity during walking in individuals with gluteal tendinopathy. Scandinavian Journal of Medicine & Science in Sports. 2018;28(2):686-695.
Allison K, Vicenzino B, Wrigley T, Grimaldi A, Hodges P, Bennell K. Hip abductor muscle weakness in individuals with gluteal tendinopathy. Medicine and Science in Sports and Exercise 2016a; 48(3):346–352.
Allison K, Wrigley T, Vicenzino B, Bennell K, Grimaldi A, Hodges P. Kinematics and kinetics during walking in individuals with gluteal tendinopathy. Clinical Biomechanics 2016b; 32:56–63.
Allison K, Bennell K, Grimaldi A, Vicenzino B, Wrigley T, Hodges P. Single leg stance control in individuals with symptomatic gluteal tendinopathy. Gait & Posture 2016c; 49:108–113.
Birnbaum K, Siebert CH, Pandorf T, Schopphoff E, Prescher A, Niethard FU. Anatomical and biomechanical investigations of the iliotibial tract. Surgical and Radiological Anatomy 2004;26:433-446.
Mellor R, Bennell K, Grimaldi A, Nicolson P, Kasza J, Hodges P, Wajswelner H, Vicenzino B. Education plus exercise versus corticosteroid injection use versus a wait and see approach on global outcome and pain from gluteal tendinopathy: prospective, single blinded, randomised clinical trial. British Medical Journal 2018; 361: k1662 (Published 02 May 2018).
https://smarteducation.be/wp-content/uploads/2018/09/Hip-and-Pelvis-1.jpg
400
600
Margo Wegge
https://smarteducation.be/wp-content/uploads/2020/02/Logo-SmartEducation-groot-voor-website-300x181.png
Margo Wegge
2019-02-08 09:41:22
2019-02-08 16:48:00
Development of a successful program for painful gluteal tendinopathy - Alison Grimaldi