Planning
Locatie
Aalst - Crossfit Aalst
Inhoud
"Using biomechanics and technology to build better performing, more robust athletes"
The course will outline the key factors for consideration and assessment in an injured athlete, the tests and technology and variables that are relevant to each component of that assessment and the rehabilitation strategies needed to develop capacity and change across each of those components.
The course will cover:
What is motor control and co-ordination and how to assess
How to measure strength and programme for strength gains
How to measure power and explosiveness and what are the key metrics
How to measure plyometric and reactive strength qualities
Key components in the analysis of running biomechanics
How to assess Change of Direction vs Agility
Motor Learning and Skill Acquisition
Leerdoelen
Understand the concepts behind motor control and co-ordination, how it develops during maturation and how to assess and target during rehabilitation
Appreciate the various methods of assessing strength in the lower limb and how to target adaptation during rehabilitation
Review the use of technology in the profiling of power and plyometric qualities and how to programme accordingly
Understand the role of linear running mechanics in injury and athletic performance and expand skill set to be able to identify and modify biomechanical deficits
Understand the differences between assessment of change of direction mechanics and agility and construct drills and sessions to target specifically.
Understand the concepts driving motor learning and skill acquisition and how to incorporate them into your programming specific to your athletes and the demands of their sports.
Docent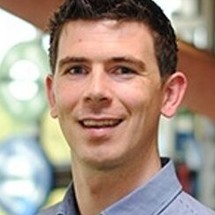 Enda King (PhD) is Head of Performance Rehabilitation with Sports Surgery Clinic, Dublin, Ireland. His role focuses on combining the use of 3D biomechanics and individualised high-level residential rehabilitation to optimize recovery from injury and enhance athletic performance. He has worked with athletes across a wide variety of disciplines including rugby, football, AFL, NFL, UFC, boxing, horse racing and GAA. His greatest areas of expertise lie within knee/ACL rehabilitation as well as athletic hip and groin pain and is widely published in peer reviewed journals in both areas. Enda King has recently completed his PhD on the use if 3D biomechanics in ACL rehabilitation through the University of Roehampton, London and will share much of his new research and clinical developments on this course.
Doelgroep
Kinesitherapeuten, sportkinesitherapeuten, manueel therapeuten, osteopaten, podologen en artsen.
Inbegrepen
Syllabus, lunch en koffiepauzes.