Whiplash: clinically relevant physiotherapy management
Evidenced informed overview, assessment and treatment.
Instructor: Johnson McEvoy (Ireland)
Course contents :
Whiplash injuries are common and usually occur from an acceleration/deceleration injury to the neck in a traumatic event such as road traffic accidents or slips and falls. The pathogenesis of whiplash associated disorders (WAD) is complex with evidence of patho-anatomical aspects and peripheral and central sensitisation, but the underlying mechanisms are not fully understood. WAD is best considered under the biopsychosocial model. In spite of scientific research WAD and its manifestations are at times controversial,
Despite the increased research and medical attention to WAD, 50% of those with WAD will not recover fully and will have long-term pain and disability!
The course aims to introduce and review current concepts and knowledge base around WAD, including an overview of whiplash, assessment relevant to the WAD patient and physiotherapeutic management of WAD patients. The lecture-based aspect of this course is clinically relevant. Non-relevant information is kept to a minimum. It also covers practical elements regarding assessment and treatment relevant to WAD.
Aim of the course:
– To present an evidence-informed clinically relevant overview of whiplash.
– To discuss the prevalence and socioeconomic impact of whiplash
– To appreciate the historical context and controversies in whiplash
– To understand the mechanisms of whiplash injuries
– To be able to classify presentations of WAD
– To understand and utilise the Neck Disability Index in the assessment of WAD patients
– To be able to run a clinical prediction rule for prognosis of WAD
– To present clinically relevant assessment related to WAD presentation
– To present treatment concepts, evidence and current limitations for patients with WAD
– To understand the role of the multidisciplinary team in the treatment of WAD
Datum : vrijdag 6 december 2019,  9-17u
Doelgroep van de cursus : Kinesitherapeuten en manueel therapeuten
Prijs : 250€ excl. btw , 30% korting indien betaling met KMO-Portefeuille
Inbegrepen : Syllabus, lunch en koffiepauzes.
Accreditatie :  Pro-Q Kine: 16 ptn
Dr Johnson McEvoy is a Chartered Physiotherapist in private practice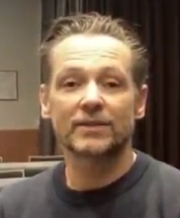 in Ireland. He has a BSc in Physiotherapy, MSc in Sports Physiotherapy and a Doctorate in Physical Therapy (DPT) from the University of St Augustine, USA. He owns a busy private practice specialising in the multimodal treatment of musculoskeletal pain and sports.
Dr McEvoy teaches as an external lecturer on several University programs since 2004. He was lead physiotherapist with the National Irish boxing high-performance program from 2003-2017. He was an accredited Olympic games physiotherapist for Athens 2004.
He has authored and published several papers and chapters of books including myofascial trigger point therapy, dry needling safety, neck and low back pain, shoulder, and patellofemoral pain syndrome, etc. He teaches a two day low back pain course and several dry needling and manual trigger point courses. He has lectured in Ireland, Spain, Portugal, England, Scotland, Belgium, Switzerland, and the United States.
He treats many patients with whiplash-associated disorders. He acts as an expert witness and writes approximately 30-40 patient assessment reports annually over the last ten years for court and medical-legal purposes. He has taken the stand to give evidence as an expert witness in the High Court in Ireland on several occasions.