Strength & Conditioning for Physiotherapists
Docent: dr Merv Travers (Australia)
Inhoud:
This 2-day course teaches physiotherapists fundamental skills in prescribing gym-based strength exercise programmes. A mixture of practical and theory sessions combine to give physiotherapists the confidence and competence to deliver effective rehabilitation, injury prevention and general strength programmes. Based on the most up to date research and practice, participants will learn how to effectively prescribe key lower limb strength exercises to their patients, how to match the intensity of the exercise to the capacity of the individual and how to create structured and progressive programmes. The key take home messages can be readily applied to clinical practice in a variety of settings.
Leerdoelen:
-A wide repertoire of lower-limb strength exercises: Learn to execute and prescribe a broad range of exercises and the qualities they train
–Programme design: Develop practical skills in programme design and implementation based on contemporary understanding of strength training parameters (intensity, volume, rest, frequency, decay)
–Getting the intensity right: Learn multiple methods for matching the intensity of an exercise to the capacity of the individual with an understanding of when to use the different methods
–Injury prevention: Gain contemporary knowledge in injury prevention through exercise
–Training interference: Understand how to plan endurance and strength training sessions to maximise strength outcomes
–Land, jump, turn: Develop practical skills for optimal rehabilitation of field sport athletes
Datum :  donderdag 9 en vrijdag 10 januari – telkens van 9-17u
Doelgroep van de cursus : kinesitherapeuten, sportkinesitherapeuten
Prijs :  540 excl. btw , 30% korting indien betaling met KMO-Portefeuille
Inbegrepen : Syllabus, lunch en koffiepauzes.
Accreditatie :  Pro-Q Kine: 24pt
Merv Travers is the founder and director of Optimise Rehab, a company providing practical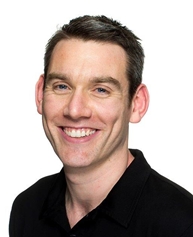 educational courses for physiotherapists and other health professionals in the areas of strength training and gym-based rehabilitation.
Merv is a Senior Research Scholar working in the area of low back pain, tendon pain and exercise rehabilitation at the School of Physiotherapy, The University of Notre Dame Australia. He completed his PhD at Curtin University, Australia where he maintains an Adjunct Research Fellow role. He has a Masters of Manipulative Therapy and is a qualified strength & conditioning coach (Australian Strength and Conditioning Association – Level 2).
Merv's clinical background includes working in professional rugby union. Currently, he provides clinical consultation for complex musculoskeletal conditions at Star Physio, Perth, Australia.
Merv lectures nationally and internationally on topics including strength and conditioning and tendinopathy rehabilitation.