Load Management – Train Smarter and Harder
Instructor: dr Tim Gabbett (Australia)
Content: 
Dr. Tim Gabbett has forged a career working with elite professional athletes while also publishing his research in peer-reviewed scientific journals. His "Workload Management and Athlete Management" course, which has been delivered in 6 continents and 21 countries worldwide, combines the very latest scientific information on training with practical ideas that can be used immediately in the clinical setting, with athletes, or sporting teams.
This two-day course bridges the gap between theory and practice. Participants will gain hands-on experience monitoring training loads, designing session and weekly training plans, and providing training programs to meet the individual needs of athletes and patients. The workshop is presented in a small group setting, promoting interaction and discussion amongst participants, and allowing ample time for Q&A. Whether you are an experienced practitioner or simply want to gain some practical ideas to implement in your clinic, this workshop will help you to "build a training program from the ground up"!
Datum : maandag 21 en dinsdag 22 oktober '19, telkens van 9.00-17.00u
Doelgroep van de cursus : Kinesitherapeuten, sportkinesitherapeuten, sportartsen, personal trainers
Prijs : 500€ excl. btw, 40% korting indien betaling met KMO-Portefeuille
Inbegrepen : Syllabus, lunchbuffet en koffiepauzes.
Accreditatie : Pro-Q Kine 24ptn
Dr Tim Gabbett has 20 years experience working as an applied sport scientist with athletes and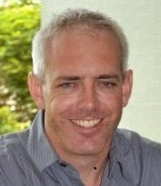 coaches from a wide range of sports. He holds a PhD in Human Physiology (2000) and has completed a second PhD in the Applied Science of Professional Football (2011) , with special reference to physical demands, injury prevention, and skill acquisition.
Tim has worked with elite international athletes over several Commonwealth Games (2002 and 2006) and Olympic Games (2000, 2004, and 2008) cycles. He continues to work as a sport science and coaching consultant for several high performance teams around the world.
Tim has published over 200 peer-reviewed articles and has presented at over 200 national and international conferences. He is committed to performing world-leading research that can be applied in the 'real world' to benefit high performance coaches and athletes.
Podcast met Tim Gabbett: