16 april 2019
BFR-training?!
Blood Flow Restriction Training is een buitengewone manier om met lage trainingsbelasting toch snel spiermassa op te bouwen!  Deze trainingsmethode bestaat al sinds de jaren '60 maar krijgt de laatste jaren enorm veel aandacht! Vanuit de USA waait deze interessante trainingsmethode momenteel over naar het Europese vaste land.
Om spierhypertrofie en krachtwinst te creëren wordt nog meestal getraind rond de 65% à 70% van het 1RM door gebruik te maken van zwaardere gewichten1. Het grote probleem bij deze trainingsmethode is natuurlijk dat bepaalde situaties trainen met zware load niet geïndiceerd is2.  Hier biedt BFR-training een oplossing!
Wetenschappelijk onderzoek naar blood flow restriction training laat zien dat je maar op 20% – 30% van je 1RM hoeft te trainen en wel hetzelfde hypertrofisch effect krijgt! Even kort door de bocht: de belangrijkste eigenschap van deze trainingsmethode is dus dat je met een lage trainingsbelasting een hoge trainingsbelasting na kan bootsen3-8.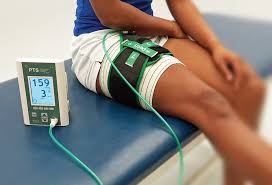 Tijdens Blood flow restriction training wordt een soort van 'cuff/ tourniquet' geplaatst proximaal van de trainen spier. Hierdoor wordt zowel de arteriële bloedtoevoer als de veneuze return beperkt9. Als gevolg hiervan ontstaat een vermindering in aanvoer van zuurstof, wordt een enorme hoeveelheid lactaten geproduceerd en komen metabolieten vrij in de omvatte spier10. Deze metabole stress in combinatie met de mechanische tensie door beweging worden beschreven als de 'primary hypertrophy factors'11. Hiervan wordt gedacht dat deze verdere mechanismen activeren die spiergroei induceren12-13.
Waarom is BFR-training dan zo interessant voor kinesitherapeuten?
Spierzwakte is zeer prevalent aanwezig in de meest voorkomende musculoskeletale aandoeningen wereldwijd. Daarom is krachttraining dus een belangrijk onderdeel in de revalidatie van verschillende patiënten populaties! Aangezien niet in alle populaties of problematieken krachttraining door middel van heavy loads mogelijk is, lijkt BFR-training dus wel de ideale aanvulling hier!
Welke populaties?
Niet enkel (top)sport populaties hebben dus baat bij deze 'nieuwe' trainingsmethode. BFR-training kan een meerwaarde betekenen in heel uiteenlopende problematieken. Wetenschappelijk onderzoek toonde al effecten aan bij bijvoorbeeld ouderen14, in de acute fase van de postoperatieve revalidatie15, bij atleten gedurende het competitieve seizoen16, bij osteoatrose knee17, …
Word jij een "early adoptor" van deze veelbelovende nieuwe trainingsmethode? Wil jij de behandeling van verschillende patiëntenpopulaties optimaal ondersteunen? Wil je wat voorbeelden uit de praktijk? Maar heb je nog vragen over het hoe – wat- waarom? Kom dan naar het avondseminarie rond BFR-training met Bert Heremans op 26/09 in Gent!
Literatuur
Garber CE, Blissmer B, Deschenes MR, et al. American College of Sports Medicine. American college of sports medicine position stand. quantity and quality of exercise for developing and maintaining cardiorespiratory, musculoskeletal, and neuromotor fitness in apparently healthy adults: guidance for prescribing exercise. Med Sci Sports Exerc 2011;43:1334–59.
Wernbom M, Augustsson J, Raastad T, et al. A low-load alternative to heavy resistance exercise? Scand J Med Sci Sports 2008;18:401–16.
Burgomaster KA, Moore DR, Schofield LM, et al. Resistance training with vascular occlusion: metabolic adaptations in human muscle. Med Sci Sports Exerc 2003;35:1203–8.
Takarada Y, Tsuruta T, Ishii N. Cooperative effects of exercise and occlusive stimuli on muscular function in low-intensity resistance exercise with moderate vascular occlusion. Jpn J Physiol 2004;54:585–92.
Abe T, Kawamoto K, Yasuda T, et al. Eight days KAATSU-resistance training improved sprint but not jump performance in collegiate male track and field athletes. Int J KAATSU Train Res 2005;1:19–23.
Loenneke JP, Kim D, Fahs CA, et al. Effects of exercise with and without different degrees of blood flow restriction on torque and muscle activation. Muscle Nerve 2015;51:713–21.
Takarada Y, Takazawa H, Sato Y, et al. Effects of resistance exercise combined with moderate vascular occlusion on muscular function in humans. J Appl Physio 2000a;88:2097–106.
Loenneke JP, Wilson JM, Marín PJ, et al. Low intensity blood flow restriction training: a meta-analysis. Eur J Appl Physiol 2012a;112:1849–59.
Loenneke J, Fahs C, Rossow L, Abe T, Bemben M, et al. The anabolic benefits of venous blood flow restriction training may be induced by muscle cell swelling. Med Hypotheses 2012; 78: 151–154.
Suga T, Okita K, Morita N, Yokota T, Hirabayashi K, Horiuchi M, et al. Intramuscular metabolism during low-intensity resistance exercise with blood flow restriction. J Appl Physiol 2009; 106: 1119–1124.
Pearson SJ, Hussain SR. A review on the mechanisms of blood-flow restriction resistance training-induced muscle hypertrophy. Sports Med 2015;45:187–200.
Takada S, Okita K, Suga T, Omokaw, M, Kadoguchi T, Sat, T., Horiuchi M, et al. Low-intensity exercise can increase muscle mass and strength proportionally to enhanced metabolic stress under ischemic conditions. Journal of applied physiology 2012;113(2), 199-205.
de Freitas MC, Gerosa-Neto J, Zanchi N E, Lira F S, Rossi FE, et al. Role of metabolic stress for enhancing muscle adaptations: Practical applications. World journal of methodology,2017; 7(2), 46.
Centner C1, Wiegel P2,3, Gollhofer A2, König D2, et al. Effects of Blood Flow Restriction Training on Muscular Strength and Hypertrophy in Older Individuals: A Systematic Review and Meta Analysis. Sports Med. 2019 Jan;49(1):95-108.
Hughes L, Paton B, Rosenblatt B, Gissane C, Patterson SD, et al. Blood flow restriction training in clinical musculoskeletal rehabilitation: A systematic review and meta-analysis. Br J Sports Med 2017;51: 1003–1011.
Taylor CW, Ingham SA, Ferguson RA. Acute and chronic effect of sprint interval training combined with postexercise bloodflow restriction in trained individuals. Exp Physiol 2016; 101: 143–154.
Segal NA, Williams GN, Davis MC, et al. Efficacy of blood flow restricted, low-load resistance training in women with risk factors for symptomatic knee osteoarthritis. PM&R 2015;7:376–84.
https://smarteducation.be/wp-content/uploads/2019/04/BFR-gent6858.png
1080
1920
Margo Wegge
https://smarteducation.be/wp-content/uploads/2020/02/Logo-SmartEducation-groot-voor-website-300x181.png
Margo Wegge
2019-04-16 08:45:10
2019-04-16 14:49:50
Blood Flow Restriction Training: word jij een early adopter?